KP6-Series; CANbus keypad with 6 customizable keys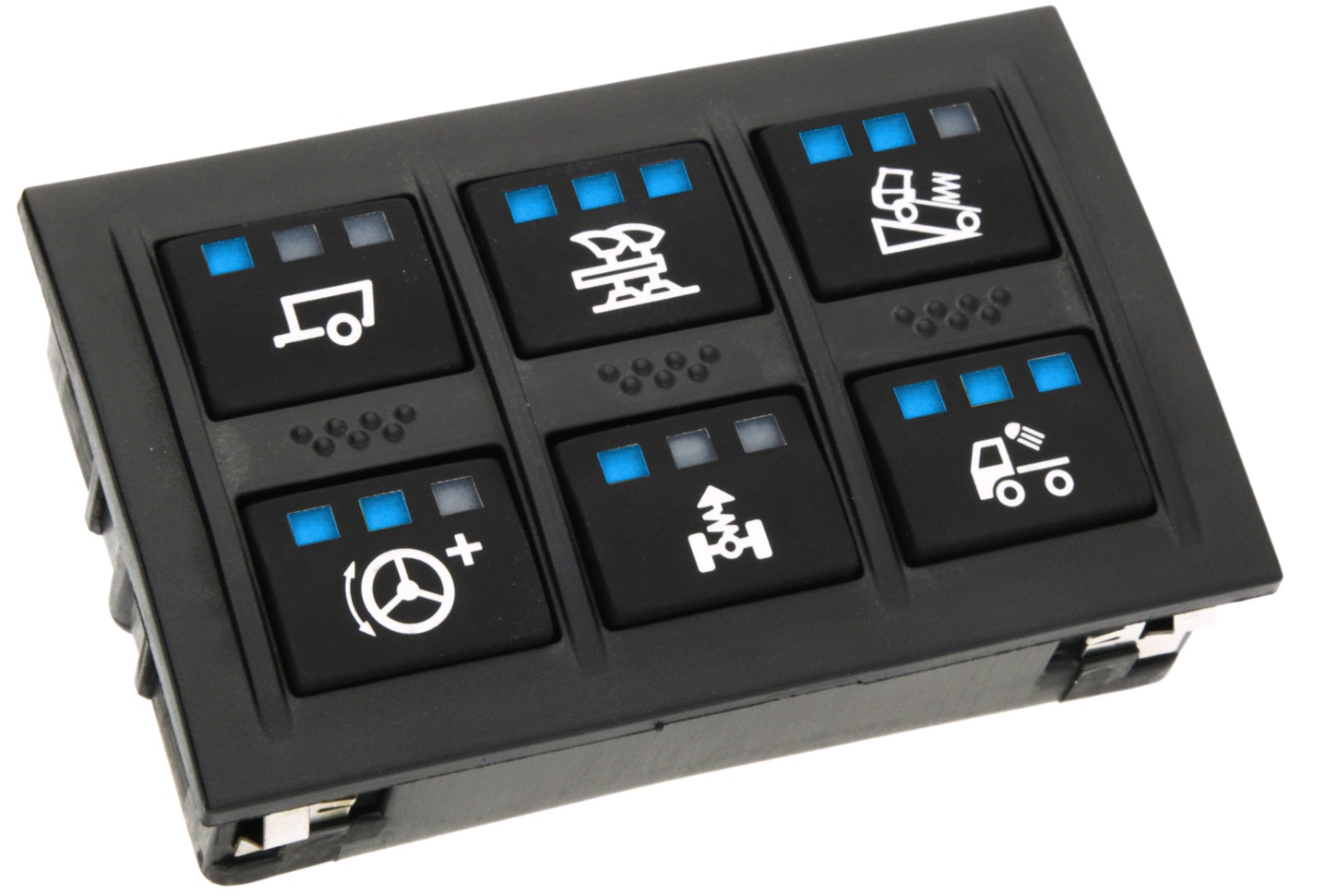 MAIN FEATURES
CANbus version
Up to 3 dimmable LED indicators per key + backlit legends
1 million cycles
Snap-in mounting
Flush to panel
Plug-and-play solution: The 6-button keypad is mapped with a standard CANbus configuration (details available on request). It also features snap-in panel mounting for quick assembly and installation.
Smart aesthetics: The surface panel mounting offers space saving and provides a quality rendering on the dashboard. With positive tactile feedback the product offers high quality user interface. The KP6 series offers many customization options for marking and illumination, included backlighting.
Long life expectancy: This keyboard has a very long life expectancy of 1 million cycles and is also EMI/RFI shielded.
Applications
Intended as an alternative to rockers, the KP6 series with CANbus is ideal in dashboard applications requiring a flush plug-and-play solution
Material handling equipment
Agriculture machinery
Heavy-duty vehicles
Electric cars…

Series: KP6 6-key keypad;
Key style: E Elastomeric;
Output: 1 6-pin MQS connector;
Sealing: N Standard;
Communication protocol: J CANbus J1939;
Electronic configuration:
1 Basic CAN;
3 High CAN;
Legend backlighting:
X No;
W White;
Marking orientation:
N North;
O West;
Indicator color:
X No LED;
W White;
B Blue;
R Red;
G Green;
Key 1:
X No LED;
1 LED at center;
3 3 LEDs;
Key 2:
X No LED;
1 LED at center;
3 3 LEDs;
Key 3:
X No LED;
1 LED at center;
3 3 LEDs;
Key 4:
X No LED;
1 LED at center;
3 3 LEDs;
Key 5:
X No LED;
1 LED at center;
3 3 LEDs;
Key 6:
X No LED;
1 LED at center;
3 3 LEDs;
---